The club owns four single-engine aircraft at this time; two Cessna 172s, a Piper Archer and a Piper Arrow.  We have a leaseback arrangement with a Twin Piper Comanache as well.  Several of our members also own their own aircraft and are frequently looking for safety pilots so there are opportunities beyond the club assets. 
N64344 is a 1982 Cessna 172P and is equipped with a Garmin GNS 430W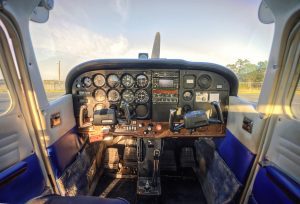 430W, KX165, dual GS
N987EG is a 1972 Piper Arrow II, PA-28R-200. 
N2528U is a 1979 Piper PA-28 (Archer). We recently installed a new engine in this aircraft and it is also equipped with a Garmin GNS 430W
 N7389Y is our lease-back twin that is owned by a club member. Some members have done concurrent multi and commercial licenses in this fine aircraft.
This is the twin's updated panel. 
Pictures from around our hangar
Our check-in area. We also provide wi-fi for our members.

Debriefing room
Flightline view from the hangar door

Maintenance area. members are encouraged to assist.